Available in 8 colors.
Net weight 1920g.
Transportation package contains 6 product packages.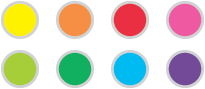 Description
Glitter is a very soft modeling compound made for younger children. Its fine and gentle structure makes modeling easy, encouraging children's locomotion activities. Playing and modeling children create their own works of art in a very fun way. Glitter is made of natural ingredients so that different colors of Glitter can be mixed into new colors or shades. Glitter Display gets dry in air so its packed in zip bags, thus it could be packed after playing and used again. Glitter is available in packaging of 8 colors (1920g).