4 boje
Težina 320g
Super mekana masa
Lako se oblikuje
Prijatnog mirisa
Ne lepi se za prste
Boja ne ostaje na prstima
Boje se mogu mešati
Suši se na vazduhu
Neotrovan
Za decu iznad 3 godine i đake mlađih razreda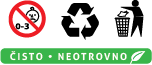 Kidolino is a soft modelling compound intended for children, young learners, but it can also be used by those who enjoy art and creative projects. Its fine structure allows easy modelling and promotes development of children's motor skills. Kidolino modelling compound is an ecological product, non-toxic and made of natural materials. Kidolino can be mixed to obtain different colors or shades of the existing colors. Kidolino air-dries, so it should be kept in a hermetically sealed packaging.